Carbon dioxide (CO2) laser has the longest wavelength of all the lasers in the market. It is an ablative resurfacing laser that produces controlled skin damage with the removal of the epidermal layer and variable portions of the dermal layer to promote regeneration of skin cells. Its associated residual heating also results in new collagen formation and skin tightening. LUNA CO2 laser can be done in fractional mode or surgical mode to target different skin concerns.
LUNA Fractional CO2 Laser
The fractional mode produces evenly distributed tiny wounds over the skin leaving gaps in between. The untreated part of the skin retains its structures to allow regeneration of new skin cells and has a shorter recovery time as compared to full-field CO2 lasers. It is good for treating deeper wrinkles, more severe textural changes from sun damage, wrinkles, blotchiness, acne scars, and surgical or traumatic scars. It can be used around areas with delicate skin such as the eye area and lips. It can also be used to improve texture, wrinkles, and blotchiness on the neck, chest, arms and legs. Fractional CO2 lasers have also been shown in clinical studies to stimulate hair regrowth, especially when pairing with topical hair boosters to allow better penetration of active ingredients.
Indications:
Uneven skin texture
Open pores
Acne scars
Lax skin
Fine lines & wrinkles
Uneven skin tone
Hair loss problems
Treated Area
Face / body / scalp
As CO2 lasers are ablative lasers, it has the ability to cut and remove unwanted growths over the skin. CO2 laser vaporizes water within the lesion being treated, resulting in immediate ablation. It can be used on the delicate eyelid skin and around the mouth. It is also a very effective treatment for sun damage and precancerous growths (actinic keratosis). Besides that it is also a very effective way for removing skin tags, moles and warts without leaving scars.
Indications:
Mole/skin tag/wart
Actinic keratosis
Benign skin lesions
Milia/oil seeds
Xanthelasma/cholesterol deposits
Fordyce spots
Corn removal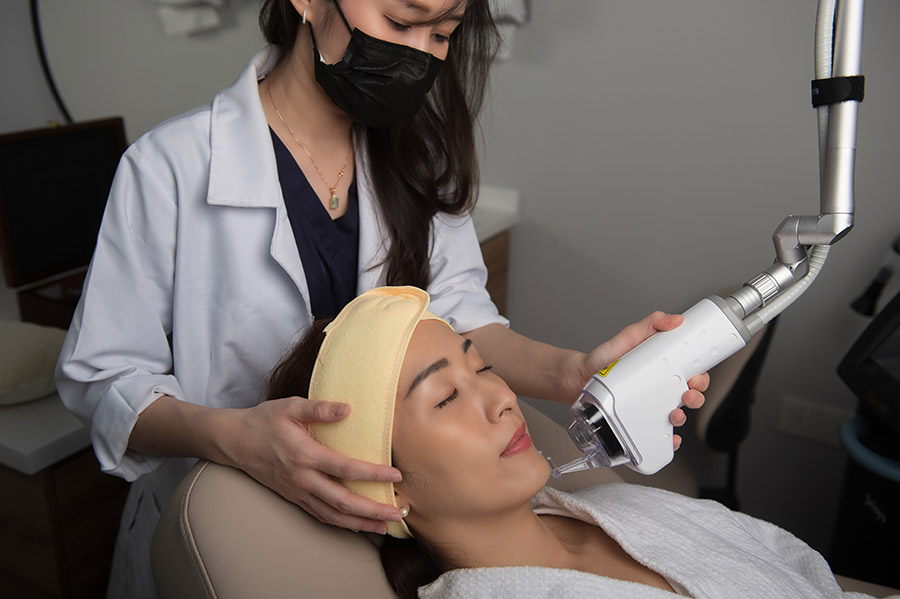 What can I expect?
Noticeable results after first treatment
Visibly positive uplift after each session
4-6 sessions recommended for optimal results
Skin may experience warm sensation and appear reddish for a few days after treatment
Scab formation may last up to 3 days depending on the extent of treatment
Proper application of topical skin care such as moisturizer and SPF is recommended up to 10 days post treatment
Improved skin texture
Smoother skin
Even skin tone
Reduced fine lines, wrinkles
Brighter / glowing complexion
Reduced pore size
Improved acne scar appearance